Various Elaine Meredith Steele Clinic Options are Available
Centered Riding® Open Clinics
These clinics typically start with a daily one-hour un-mounted lecture session before the riding lessons. An open area and seating will be needed. It would also be handy to have blankets, carpets or pads available.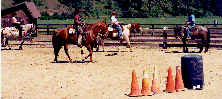 Elaine can also instruct with Centered Riding® Techniques while participants share in riding games on horseback, executing drill team patterns or putting lessons to practical use on the trail.
Cowboy Dressage® Clinics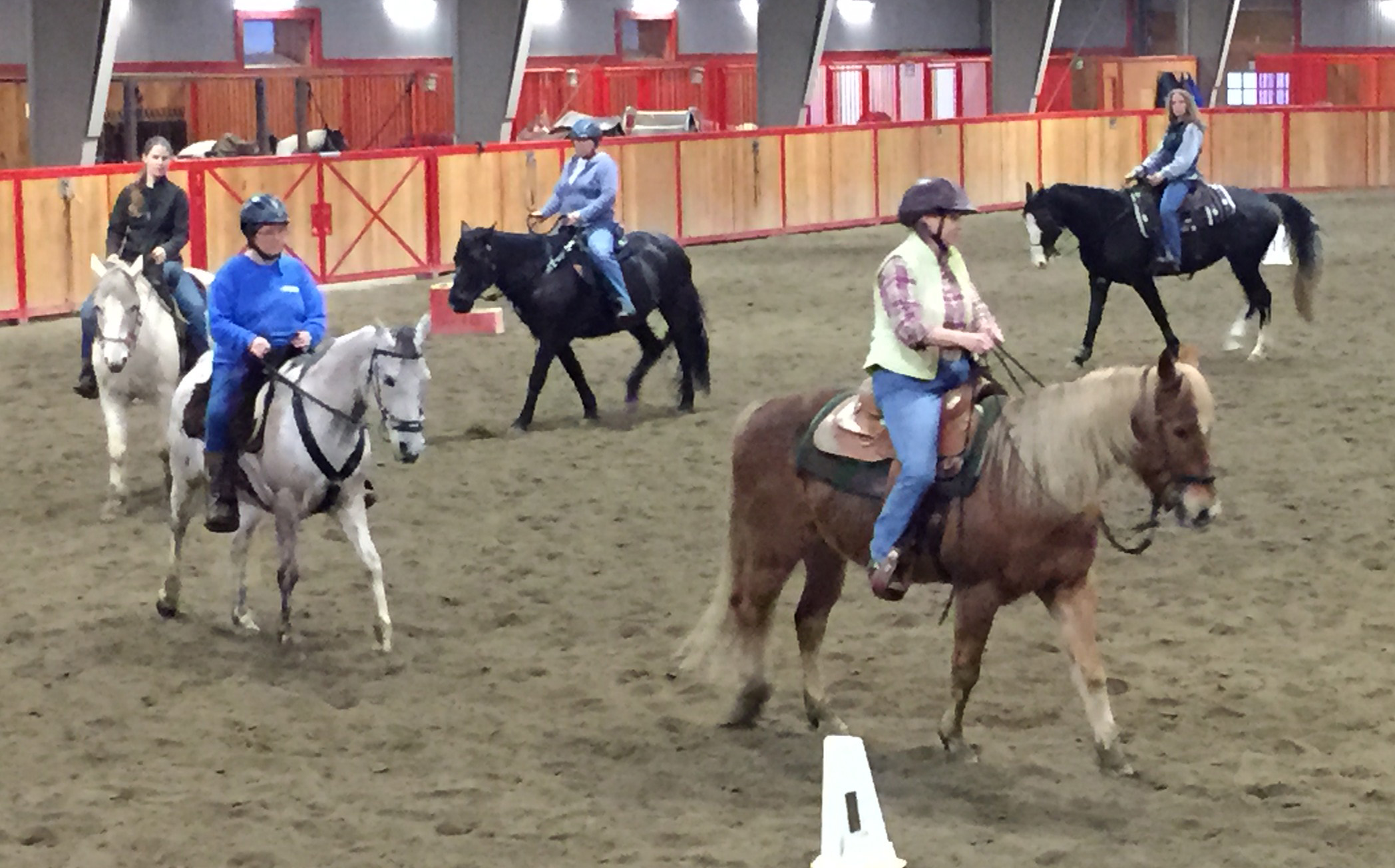 The riding arena must be large enough to accommodate the 20m X 40m Cowboy Dressage Court. The 16 Cowboy Dressage letters are also required to get started with Cowboy Dressage. Ideally the organizer will also have the Challenge Court accessories, as this is a major part of the class divisions and lends itself to fast forwarding the concepts for the rider and the training for the horse. Elaine can provide these court markers and tools for her local organizers within driving range. Long distance organizers will need to provide them.
Your clinic day may start with an un-mounted lecture session as we explore the geometry of the Cowboy Dressage Court and the details underlying the maneuver directives. A discussion area and seating will be needed.
Cowboy Dressage clinics can also be designed in combination with a retreat. Add in a spectacular setting, good food and entertainment, fine horses, western hospitality, and you have the perfect backdrop for the Cowboy Dressage lifestyle.
Clinic Formats
One-hour Lesson Format
The lesson lasts one hour with the final 15 minutes set aside for sharing and questions. A 15 minute break between lessons gives time for the next participants to warm up and for the clinic to stay on schedule. Lessons may be private or group (normally up to four).
Six 1-hour Private or Group

Un-mounted

8:30 - 9:30

Morning
Lessons

9:45 - 10:45

11:00 - noon

12:15 - 1:15

Lunch Break

1:15 - 2:15

Afternoon
Lessons

2:15 - 3:15

3:30 - 4:30

4:45 - 5:45

Wrap Up

5:45 - 6:00
Two-hour Lesson Format
Three groups ride in a day in this format with four to five riders in each group. The final 15 - 20 minutes of the lesson is set aside for sharing and questions.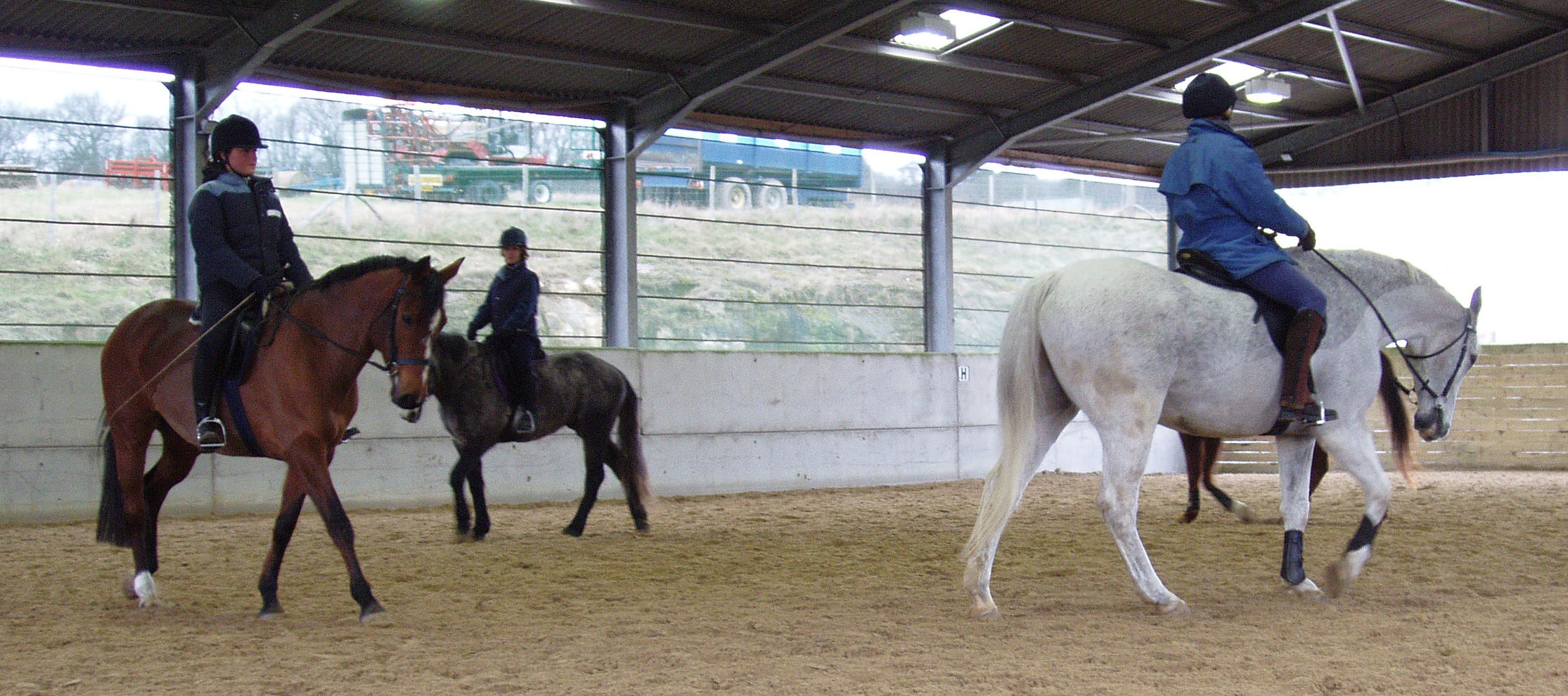 Three 2-hour groups

Un-mounted

8:30 - 9:30

Morning
Rides

10:00 - 12:00

Lunch Break

12:00 - 1:00

Afternoon
Rides

1:00 - 3:00

3:15 - 5:15

Wrap Up

5:15 - 6:00
Three-hour Lesson Format
These group rides (normally six riders) are three hours long with the final 20 - 30 minutes set aside for sharing and questions.
This format, within a Two Day Clinic, can be separated out into Four Sessions, each with a distinct agenda. While preference would go to a rider attending all four sessions, someone could just attend one or more. This gives an opportunity for a rider to test the waters of Cowboy Dressage or for a dedicated enthusiast to put some polish on a distinct area of practice. Feel free to call Elaine, 208-660-5204, to discuss this exciting Two Day Option.
Two 3-hour groups

Lecture

8:30 - 9:30

Morning
Rides

10:00 - 1:00

Lunch Break

1:00 - 2:00

Afternoon
Rides

2:00 - 5:00

Wrap Up

5:00 - 6:00
Larger Group Formats
With the focus on having fun while learning new riding techniques, clinic options can include combining the sessions into larger groups for longer time frames or trading mounted time for additional un-mounted group exercises or pattern studies. Moments to summarize will be worked in to assure the riders are comfortable with the material, techniques, exercises and goals for results.
During a Three Day Clinic we can have each person ride in one smaller group at some point during the clinic and also have daily rides with everyone together.
Below is an example schedule for a Three Day Clinic with fifteen riders:
Day One

Day Two

Day Three

9:00 - 11:00

Group A
(three riders)
Group C
(three riders)
Group E
(three riders)

11:00 - 12:30

Everyone Un-mounted
Everyone Rides
Everyone Rides

12:30 - 1:30

Lunch Break
Lunch Break
Lunch Break

1:30 - 3:30

Group B
(three riders)
Group D
(three riders)
Ride the Tests

3:30 - 5:00

Everyone Rides
Everyone Rides
Ride Tests and Wrap Up
Truly, this is your clinic. The above suggestions are really only examples of possible scheduling. And the clinic details can be customized to be sure your clinic represents you and your interests. Just see Elaine's contact information above to let her know what your goals are.
The result is in the details,
Tail along to find out...