Elaine promotes "Western horses enhanced by Dressage"
as a Recommended Cowboy Dressage® Judge
The ultimate goal of Cowboy Dressage® is to develop western horses in self-carriage. It is all about the horse and helping the horse be better. The scoring system, which places Soft Feel, Harmony and Partnership as most important, directs riders toward understanding how they can do to help their horse reach that ultimate goal.
Cowboy Dressage® has a secondary goal to help each horse and rider have a successful show experience. Depending on the facilities, Cowboy Dressage® allows a quiet "buddy horse" to stand near the court to support a nervous horse. Riders can pet their horses and kindly talk to them at any time while riding a test. Show management is encouraged to have a microphone set up so that each rider can hear their own test caller standing on the sidelines.
The future lies in the quality, integrity and consistency of the judges.
The Cowboy Dressage® judge has a responsibility to score tests accurately and ethically. They report what they have observed, provide constructive criticism, explain what they like, and nurture "the try" in each horse and rider partnership. They are also responsible to keep the class environment safe, monitor the court for accuracy and set up every horse and rider for success.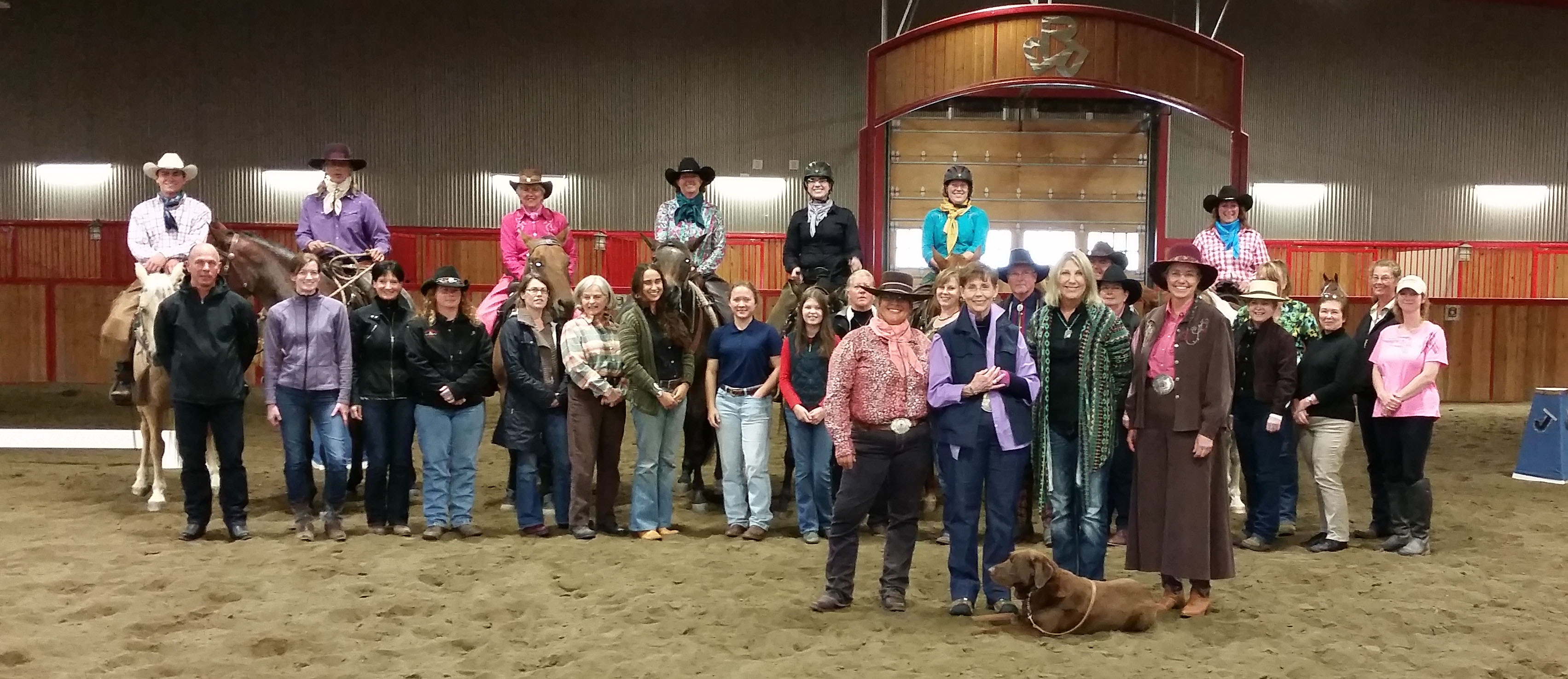 Cowboy Dressage® judge candidates go through a strenuous educational program. Lyn Ringrose-Moe is the driving force behind the judges' training requirements and instruction. She and the other founding members of Cowboy Dressage® World examine each candidate's capability to give kind, but concise feedback, judge each horse on it's own individual merits, and provide a safe place for horse and rider to learn, grow and improve.
As of April 10, 2016 Elaine earned her status as a Recommended Cowboy Dressage® Judge and, as a member of the Cowboy Dressage World Professional Association, she is listed on the www.cdwpa.com website. She is available to judge both schooling shows and sanctioned shows.
To find her next Cowboy Dressage® Show, or to look for possible available dates to book Elaine to judge for you, check into Elaine's current schedule.
Elaine appreciates your loyalty,
So, look for treats ahead...