Lectures, demonstrations, presentations expo seminars and demonstration lessons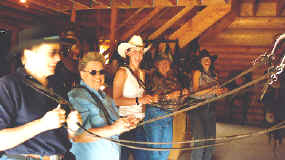 are ideal group opportunities to discover the Basics of Centered Riding® or to be introduced to the Cowboy Dressage® Court and maneuvers. These venues are also ideal to expand into more advanced techniques. Rather than being caught in a "rub your head and pat your belly" state of confusion, it is often easier to try on new ideas in an un-mounted setting and then later on horseback.
Elaine's lectures and presentations are also great ways to "kick start" the riding season or to maintain a group's riding momentum during poor weather. Group size would only be limited by the facilities available.
Introductory Centered Riding® Lecture
Elaine can present a solid introduction to the Four Basics of Centered Riding® in a little under an hour and likes to draw the audience into actively participating so that it is not just a lecture but an experiment in which the participants create a new awareness of how their bodies communicate to their horses. Depending upon the interaction during the exercises, hopefully, there would be about ten minutes left for questions.
Postural Alignment Demonstration
Over more than twenty years Elaine has taught hundreds of riders and in that time has observed a common thread of body postures in which people habitually tend to carry themselves. Un-be-known to the riders, the horses were often responding to an accidental level of body language - communication that the riders never even intended. Elaine loves to interactively demonstrate just what these various habitual body postures are and how they effect horses.
If a rider can feel and visualize the way most horses typically react to these static patterns, they can then learn, through their own horse, to recognize habitual stances in themselves and begin to replace those postures with a new dynamic presence. This results in a change in balance and freedom of carriage in the horse that is usually quite obvious.
This can be a mounted or un-mounted event.
"Cowboy Dressage® from the Judge's Viewpoint" Presentation
This PowerPoint presentation premiered at the 2015 Introduction to Cowboy Dressage® held at Rhodes River Ranch. As a schooling show level judge, Elaine explains how the remarkable scoring system in Cowboy Dressage® emphasizes Soft Feel, Harmony and Partnership so that the relationship between horse and rider is more important than the actual competition. Participants learn how to dissect the judge's score sheet to understand the goals of each maneuvers in order to maximize the benefit of Cowboy Dressage® for both horse and rider.
"Top Tips for Teaching" Lecture
Given at the 2012 Centered Riding® Educational Symposium, this lecture offers quick and entertaining coverage of twenty ideas that have shown great responses among Elaine's students over the prior twenty years of teaching Centered Riding®. This is interactive and designed to spark awareness of the rider's use of self and how that can influence the horse.
"Using Centered Riding® in the Western Discipline" Presentation
This presentation premiered at the 2007 International Centered Riding® Symposium. Here Elaine summarizes historical development of training methods and then shows specific Centered Riding means to obtain the desired results. The premiere presentation also included a demonstration lesson for instructors with tips on bodywork with riders in the western style and athleticism exercises for horses preparing for western events. Available in PowerPoint.
"Centered Riding® Goes West" Presentation
This unique presentation premiered at the 2002 International Centered Riding® Symposium. Here Elaine investigates the underlying philosophy of true western riding and then shows how Centered Riding relates to the western style and it's various offshoots. Available in PowerPoint or transparency format.
Lecture Series
Continued expansions on an introductory lecture is possible in the form of a lecture series. Each lecture series can be angled toward your group's special interests, ages and riding levels. Elaine has so much interactive material that the possibilities and applications are nearly endless.
Centered Riding® Techniques offer a map into deeper levels of understanding the delicate partnership between horse and rider. Exploring the dynamics and ramifications of our physical, mental and emotional influences on our horse provides avenues to address problems, improve performance and add finesse.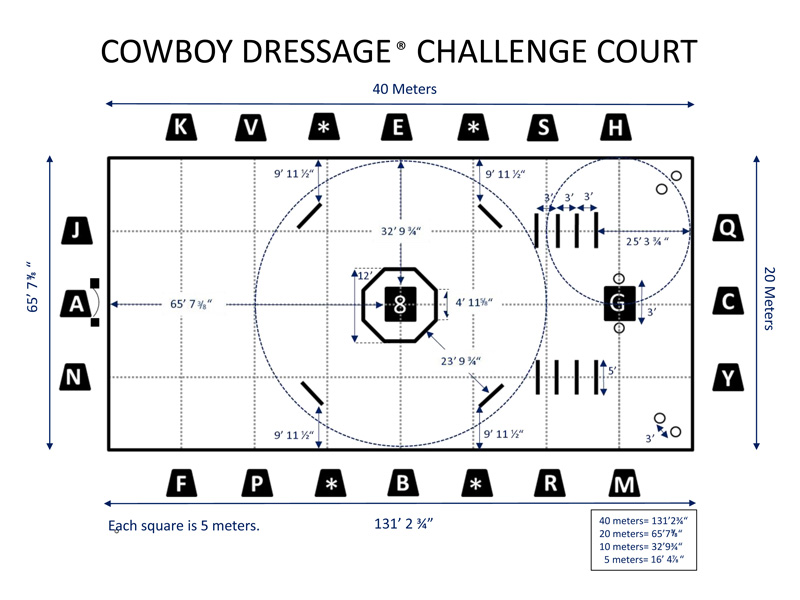 Individual performance on the Cowboy Dressage® Court can be greatly improved with a thorough understanding of the training goal underlying each maneuver and a complete grasp on how to maximize the subtlety of the aids used to support the horse through each movement. Practicing each test in an un-mounted setting is a sure way to reduce that "deer-in-the-headlights" feeling when the pressure is on in the arena.
Facilities with plenty of room for the group to be seated as well as move about are recommended. Carpeted floors or access to rugs / pads would be a plus.
Demonstration Centered Riding® Lessons
There is nothing like a group ride to demonstrate various rider habits and horse responses. Elaine likes to explain her observations of horse and rider relations so the audience can also develop a better understanding of a horse's response to rider alignment, aids, synchronicity and timing. She likes to demonstrate horse and rider biomechanics in entertaining ways so that everyone can imagine, feel and develop a better understanding. With audience participation so many more people can benefit from the experiences of the brave riders in the arena.
All demonstration lessons conclude with a rider summary of what each learned, what worked, and/or what concepts they want to take home. Elaine is adamant that riders need to acknowledge their own successes as verified through their horse's feedback in order to truly grow and succeed. This also gives the audience an opportunity to empathize with and learn from the demonstration riders' experiences.

Expo Seminars
Expo Seminars can be custom tailored with any combination of the above presentations, lectures and/or demonstration sessions. Additionally, lessons can be scheduled with dialog aimed toward the audience and designed to clarify the rider's actions, the horse's responses and exhibit the practical application of Centered Riding® Techniques or Cowboy Dressage® maneuvers.
Please Note: Microphone setup is required in larger auditoriums and in arena settings.
Please contact Elaine by email or call (208) 660 5204 to discuss your upcoming event plans.
For more information please look over
Or, you may just want to follow the trail...