Please take your time enjoying all these lovely notes, or
Here's a quick click to catch up with the herd at the bottom of the page.
Organizer Comments
I've seen you at the Back Country Horseman's Roundevous and I, personally, can't wait to take a clinic with you! Diane - Old People's Riding Club, Yakima WA
I'd like to have you for the whole weekend, but I would settle for a single day if you can manage it. I go to every clinic that is offered locally, but most of them are pretty dull. Lots of sitting around listening to longwinded stories. I never feel like I'm wasting my time with you. I'd just like my club to see what a well run clinic looks like. Nell - Franklin County Saddle Club, Pasco WA
The clinic is filling up and a lot of people want to ride on Sunday...Everyone is really excited about the clinic--most have done it before but there is at least one new rider. Marsha - The Riding Centre, Yellow Springs OH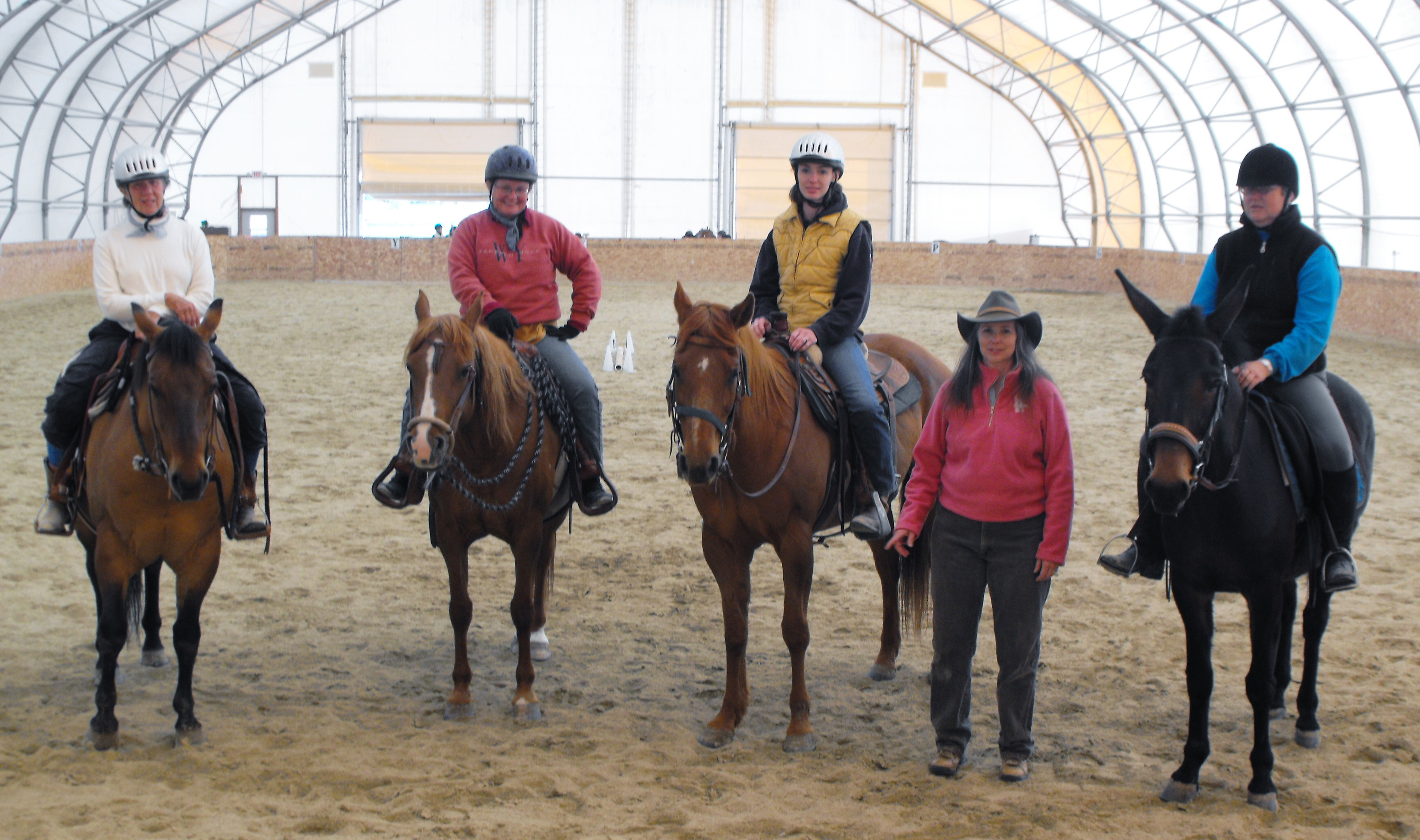 Elaine, I have received great comments about the Centered Riding clinic. In particular, about your ability to individualize the clinic so that each participant benefitted. I have already had requests to host a repeat clinic next year… Joyce - Whitewater Therapeutic And Recreational Riding Association, Salmon ID
Hi, I hope you got a chance to watch the slide show of the last clinic. Everyone I have talked to really enjoyed the clinic and have said it was the best one yet, even Kermit ! Sorry I had to miss it. Kathy - Spokane Winter Centered Riding® Clinic Series, Spokane WA
It was a great clinic. The video clips will be coming soon. Bill enthusiastically shot over an hour's worth, but fortunately most of them are in short bursts. We looked "not bad." I hope we get to do this or a shortened version of it again. Nell - Franklin County Saddle Club, Pasco WA
Great thank you so much Elaine! Cant wait to have you back in September! We already have talk going on about who wants to take lessons with you before and afterwards! Annie - Shamrock Stables, Bozeman MT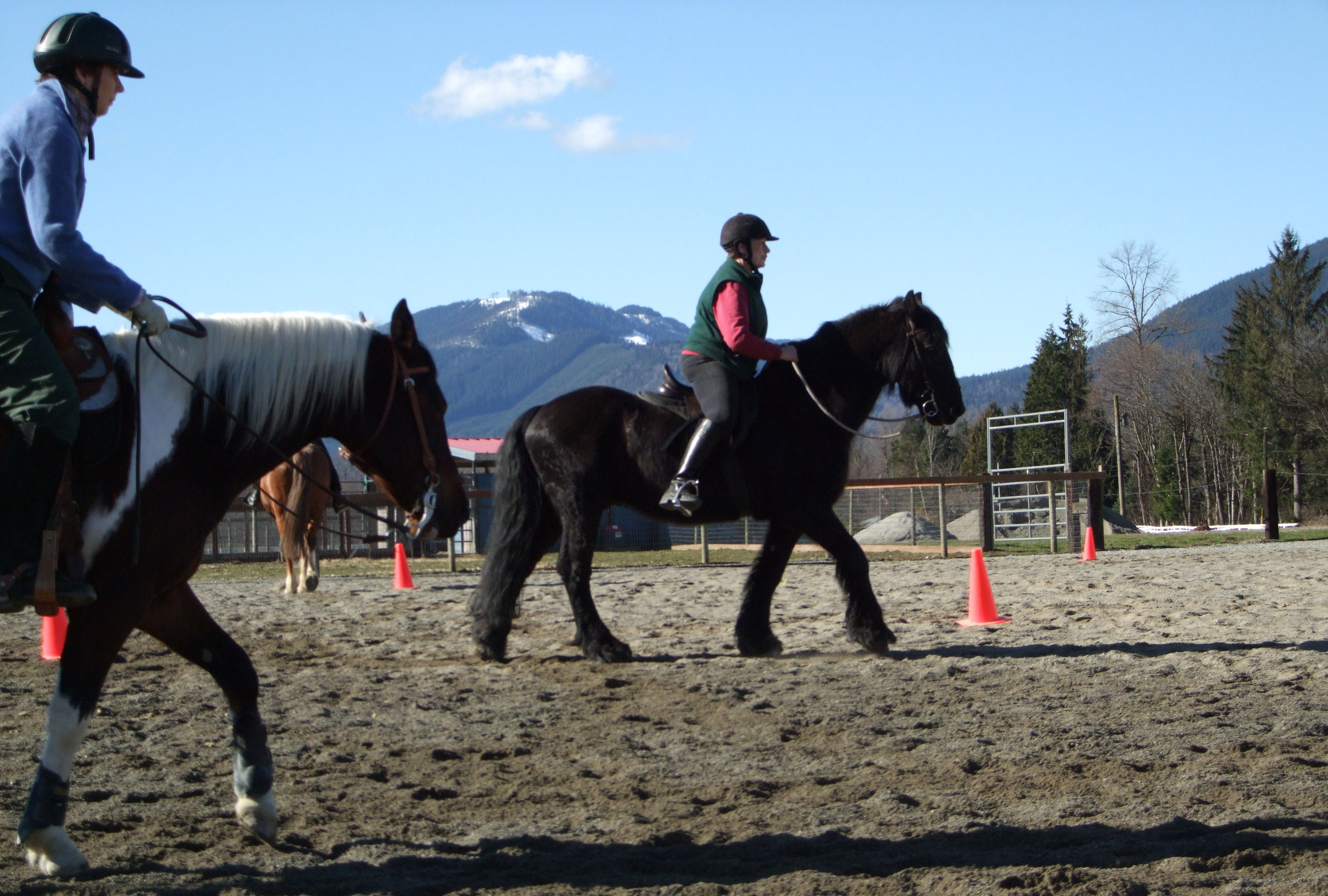 You are always looking at what is best for the horse, how they are designed to move and function, and the ways they communicate their needs. Then you figure out how to meet those needs. Of even more significance, perhaps, you are always willing to adjust your actions and suggestions according to the horse's response. You bring that with you every time you come to Rhodes River Ranch and I always look forward to what else I can learn from you. It is a delightful way for me and all your students to learn about riding and handling horses. You are sensitive to all our needs and problems as you structure your lessons around the biomechanics of the horse-and-rider combination and how the horse's behavior and movements can tell us just what is happening between them. I thank you for sharing that with us and, more importantly, my horses thank you! Jeany - Rhodes River Ranch, Oso WA
First of all I have to tell you that we all had a great time last Sunday at the clinic. Lots of smiles. Kathleen - Spokane Winter Centered Riding® Clinic Series, Spokane WA

I can't believe the clinic is coming so fast and we're full! There are even some new riders...Would you be willing to start at 8 AM on Sunday so I can add another lesson? Also, we'll be doing the drill team exercise as the last thing on Sunday at 3:30 PM. That was a big hit last time. Marsha - The Riding Centre, Yellow Springs OH
Individual Testimonials
Hi Elaine I can't believe that it is nearly a week gone by since we met, I am still on a high. I have been telling all my friends about you and what a wonderful experience it was to attend one of your lessons. I do hope that you will be able to return to Sheilas in November. Hope the rest of your stay in England goes well shame about the weather! I look forward to hearing from you Tabitha - Somerset UK
We were doing Grand Entry about 9 pm Sunday night and my gelding and I ended up right under the hugh speakers in the center of the arena... well, the behind the chutes band had really cranked up the sound by then so the speakers above us were jacked up so the announcer could be heard..... The horses were all getting jumpy and excited. The rider to my right thought she would pet Magic and help him settle down so her horse would relax too.... Well, just as she reached out to pet him Magic popped up in front so instintively she grabbed his bridle, AND PULLED IT OFF!!! At that moment we started the exit from the arena and Magic pulled out of line at 100 mps and headed with the rest of the horses, passing them one right after the other!... I wasn't in for style points so grabbed the saddle horn, sunk down in the saddle and rode him all the way aroung the arena and out the gate without his bridle..... finally got him to stop out on the track when he realized he wasn't with his band of drill horses.... But without Centered Riding and the instinct to side down, sit tall, relax and look straight ahead that could have been a wreck. And whenever someone tells me what an incredble ride it was and how they just knew I'd never survive I always tell them, it's the Centered Riding Training!!!! Jeanie - Ellensburg WA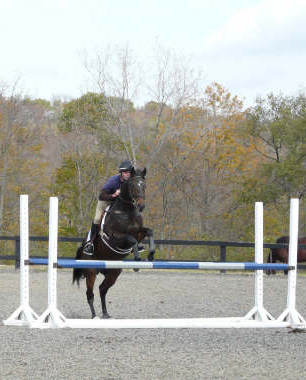 I cannot say enough about Elaine's teaching ability and the improvements Next and I have made after only participating in three of her clinics. Although her background may not be in jumping/eventing, her understanding of riding fundamentals knows no bounds. Jim - Yellow Springs OH
I was very interested in your teaching at Adlington and wished I was able to stay longer-next week maybe I can get back in the saddle and give it a try myself. Pat - Liverpool UK
Thanks again for the great lesson on Wednesday. :) Yesterday, I rode Connection in a friends arena (he had never been there before) and then we went on a trail ride and he was awesome under both circumstances. So, very forward......... he actually spooked about three times on the trail (minor, but still) and I just laughed - I felt so secure.! I used my "newly found seat" and last night my quads were talking to me in more than a whisper. LOL!!! Hopefully that is a good sign. :) Thanks again!!!! Patty - Pasco WA
I am sending this email instead to wish you a wonderful Christmas and to thank you for all the fun lessons - am looking forward to getting back to it in January!!! Blessings, Pat - Port Orchard WA
Elaine, Thank you for always being such an inspirational and positive instructor. You have no idea how I value our weekends at RRR…and the lessons you continue to teach me on and with my horse. This journey I am on with Jitse is one of the most important things in my life, as a personal challenge, and the very special and wonderful relationship I have with both of my boys. You have helped me become more confident, start to find my seat, and each month I improve and add more to my toolbox of communicating with my horse. You are the best….because of your knowledge, but mostly because of your very wonderful teaching style that makes everyone feel like we are continuing to grow in such a positive learning environment. I have taken clinics from others when the focus was "do this, do that, don't do that !!! "…that style shuts me down rather than what you do…encourage us to k eep going through the motions until we find the proper movement or actions with your gentle guidance.always focused on how well our horses move or how happy they seem when we get it right. We all love our horses, so noticing how much we help them when we do the right things really rings true for me. For 2 those of us overcoming fear issues, this gentle moving forward in such a supporting environment has made me feel comfortable to push my comfort level and keep on my journey. Even without competition as a goal, the personal achievement for me is enormous and I thank you from the bottom of my heart. Nikki & Jitse & Canyon - Arlington WA
By the way, it's been a long time since I was riding regularly but sure wish Centered Riding had been around then--I just love what it teaches and you, you are an EXCELLENT facilitator and instructor. Jenny - Yellow Springs OH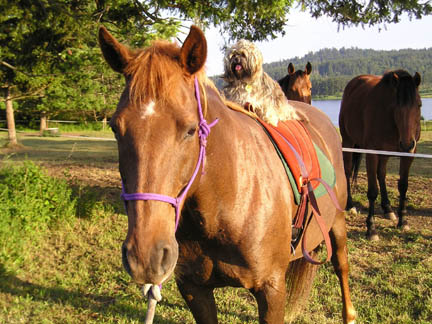 Hey Elaine, Just wanted you to know that Belle Starr is a changed horse since I got back from your clinic! She's now cantering on a loose rein, being collected and much more relaxed. I think my riding was driving her nuts. The other night we had a good gallop under the Solstice Moon - loose rein. Today, we went to a neighbor's arena and she was an angel, jumping and all. Then she walked several miles back to the pasture, no nervousness. It's amazing!! I feel so much better too. Most aches are gone. You're one hell of a teacher, Elaine. Thanks for helping serenity happen for me and Belle. Here she is with her buddy, Xena, Warrior Puppy (Cali & River in background) All the best, Molly - Friday Harbor WA
I have to tell you with my most sincere gratitude how much you have helped me with my riding - not just my form, but you made a difference with my mind and body!!! As soon as I arrived and had the kids in school I saddled my mare and we headed for the open road. She had not been ridden since the end of June, yet I did not let that affect my expectations at all. I relaxed and began to set my body up just as you had described so well - c-curve and all. I then did the same things that I did with Bucky and AMAZINGLY....Kaviar relaxed and actually seemed as excited as I was to be back together. There was no bracing, no jitters, no sidestepping, no battling whatsoever. She was elated with me for the first time ever!!!!!!!!! A few days later we went into the arena and I did the same things but in a confined area which she normally detests. She was great again! Then my friends saw me ride her and they could not believe their eyes! And, this past Sunday my Dressage trainer came and she was so impressed with the two of us that we went to work on more serious things vs. fooling around with her bad behavior. SO THERE ARE SOME MAJOR THANKS TO BE GIVEN...AND THEY GO TO YOU!!! Jackie - Amelia Island FL
Wow Elaine!! I am jumping up and down!!! I had no idea there was a Centered Riding instructor this close to me. :) Shelly - Grandview WA
Thanks so much for the excellent session in Arlington; it was very helpful, and continues to be so!! The line from the solar plexus to the back is such a fine concept; I'm aware of it constantly. And, it seems to help most of my students immensely. Anabel - New York NY
Hi Elaine, Just wanted to let you know how much I took away from last months lessons. What a difference having my feet in the right spot has made. The stirrup turners in that old saddle I am using dig into my ankles. I have black and blue spots to prove it, which explains why I had altered my foot position. I didn't give the correct answers to what did you learn from this lesson. On day two it should have been go back to what feels right before you are so tense your jaw is clamped shut. I discovered that on my way home. The Friday night session with the yarn was profound. Sally and I have been riding turns all around the arena. As soon as I turn from my core she turns. No rein signal required. It's great fun to practice. Looking forward to our next lesson. Yours, Kristin and Sally - Stanwood WA
Hello, Kim here from the clinic you ran at in March. Please can I subscribe to your forum? My riding has come on really well since the clinic. Although I didn't canter Kerry at the clinic, my cantering is going much better now. There I two main reasons, I think, first that I trust myself to sit in the saddle better, and am less scared of cantering, but also, all that work we did on sitting trot means that I can start from a secure place, and give the horse a clear leg aid to canter, so she is not confused about what I want, and is not unpredictable about the transition. I am also learning (although haven't quite conquered it yet!) not to lean on the reins through the transition, and have almost conquered the urge to curl up into a foetal position when we transition. So, thanks, you have kick started my learning, which had rather stagnated! Kim - Checkendon, Berkshire UK
I had a wonderful time all weekend and as usual came away with good stuff to work on! See you in March - study well! Pat - Port Orchard WA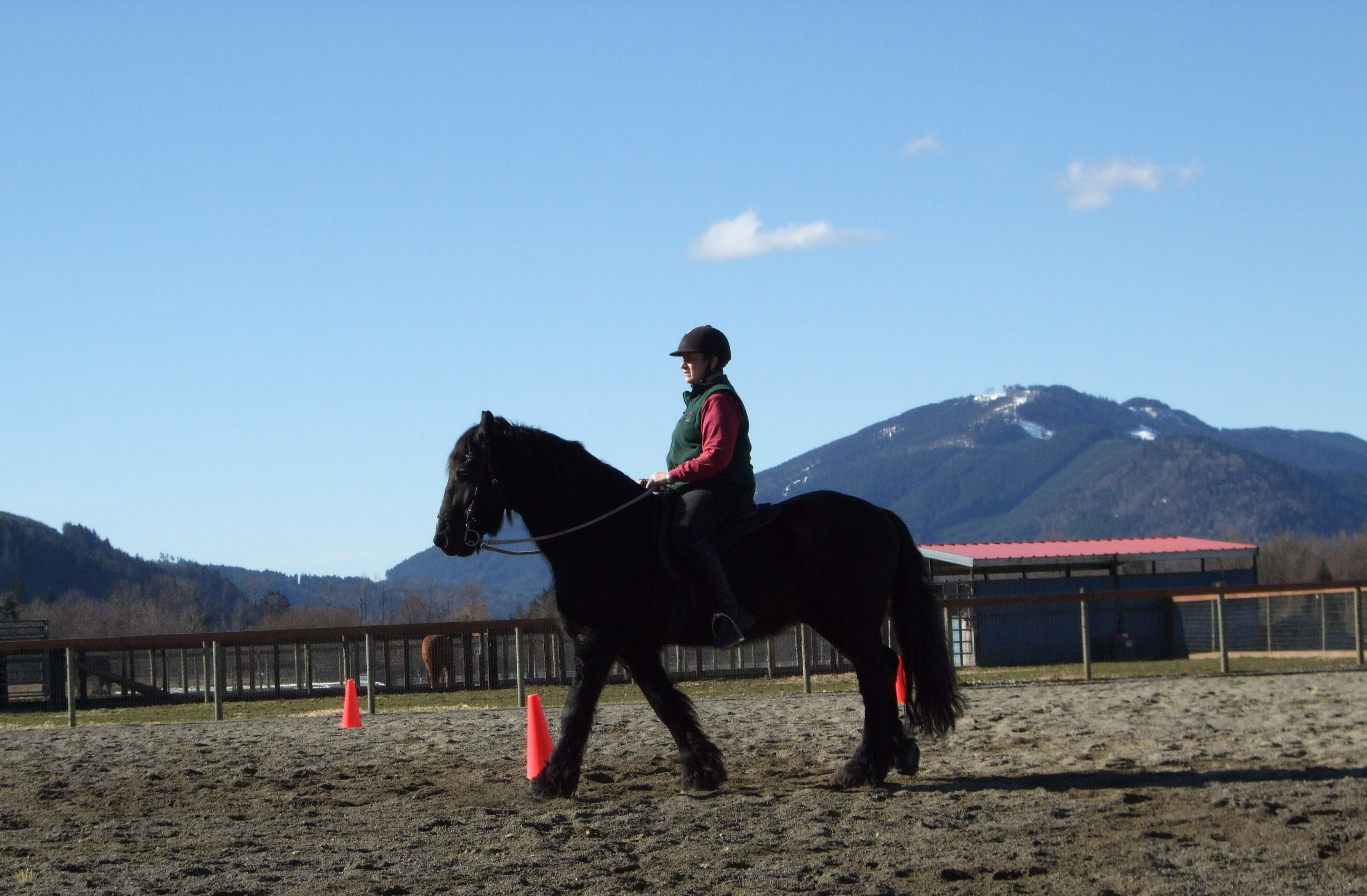 I have wanted to write this email for a long time, but finally got around to it after my epiphanies this weekend. I come away from our sessions, not frustrated because I've had a bad day or have to revisit some pretty basic things...but more committed to doing it right and better...and continue to marvel at the importance of the basic riding principles that you teach. I look forward to these weekends as the high point of my month, and will certainly be practicing all the things we worked through this weekend with my happy, responsive horses. Thank you again.. Nikki - Arlington WA
I was really tired by the last one, and Kerry wasn't too keen on working either! But, as Elaine said, Kerry was my teacher, and taught me how to not tense up with an uncooperative horse and just make things worse, and how to not rely on the reins so much. It takes a lot of control not to just get cross with a horse who isn't wanting to work, but I was getting it! We just developed our own agenda for the lesson ;-) Cheers Kim - Checkendon Berkshire UK
Elaine has been a tremendous asset to my riding ability and Next's schooling. Her understanding of how different parts of the horse correlate with different parts of the rider has helped to enhance my jumping by giving me the tools necessary to "unlock" Next's back and hock joints, which in turn allows him to reach under himself more powerfully with his hind end. As a result, we are able to get closer to the base of fences for a rounder jump. Jim - Yellow Springs OH
Hi Elaine: Steve talked me into showing the horses at the fair last week. We were the only thoroughbreds in the halter class so, Jesse got Grand Champion, SASSY (baby horse...5yo) got Reserve Grand Champion, and poor Zoe got 3rd. Then we rode in the English Pleasure and Equitation classes. I rode Jesse and Steve rode Zoe. He hasn't cantered with Zoe yet so he stayed in a trot when they called for a canter. We had to enter the arena at a trot to the right and they then announced we were to only use half of the arena....yikes. I couldn't believe it when I entered the arena Jesse got right into a show mode. I accredit this to all the Centered Riding clinics she has done. She cantered the most she has ever cantered for me. Zoe got 3rd and Jesse got Reserve Grand Champion in English Pleasure and in Equitation Steve got 3rd and I got GRAND CHAMPION !!! All those clinics with you paid off. Thanks so much. .... Kathy - Spokane WA
Elaine…Jitse and I drove the cart today…thanks for all the convincing about using my CR principles in driving….All the principles work, including the "flow the water around the turns"…..I really concentrated on all your messages and they worked!! THANK YOU THANK YOU THANK YOU for helping me achieve yet another of my horse dreams.. Nikki - Arlington WA
Elaine, I was one of the riders at the Clinic on the 9th at the Riding Centre - I rode Bandit, the buckskin. I wanted to thank you for your instruction, it was extremely helpful! I really learned a lot and I look forward to practicing some of the new riding techniques I learned! I am convinced that a lot of the frustrations I had with Bandit were partly due to the way I was riding him incorrectly and sending him mixed signals - but I think now we can both learn to communicate better and become more of a team! ... Once again, thank you for an awesome day of riding and for all the help! It was a pleasure to meet you and get to work with you! Have a wonderful day and God Bless! Kelly - Yellow Springs OH
I really came away with some great knowledge from Elaine and I am looking forward to working with my horse ASAP. Anyway, thank you again for all your effort and a very nice day! Regards, Patti - Coeur d'Alene ID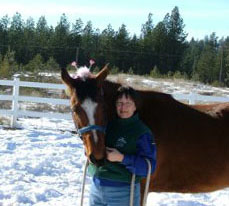 Hi Elaine: Our Friday nite jumping lessons are going well. Our instructor gave us a very nice complement last lesson when she said that we are progressing so quickly because of all our Centered Riding lessons with you. We are going to enter a "schooling show" a week from Saturday where we take the lessons using our lesson horses. Yikes!!! Kathy - Spokane WA
Hi Elaine, Just a note to say Thanks for giving me some techniques to use with Libby -- and they're working !! Inside rein is working well to keep my knee out of the rail and I am also thinking of my "ponytail" being pulled up when posting a trot. Just yesterday Libby was getting to fast in her trot and hollowing out and I used the "roll over on your big toe ball" to slow down and got instant results. So glad I attended your clinic!! Donna - Paint Lick KY
I am a new "rider" and it is actually sticking with me - talk about a "lifestyle" change. You have a gift Elaine and I cannot thank you enough for sharing it with me. I would really love to have you here in February and I will go to your website to find out how to arrange everything ... Thank you again for making such a difference, Jackie - Amelia Island FL
I again want to thank you for all the work you've done with me to gain my seat and be prepared for whatever comes along. Jitse also had a couple of minor sideways spooks that didn't bother me at all..it was pouring rain and windy…but we just marched along with focus forward and up and it was wonderful. My prior fears are just dropping away every day and I am having so much fun with my horse. THANK YOU !! I'm looking forward to next weekend….see you there. Nikki - Arlington WA
Hope you had a safe journey back from little ol' England. I really enjoyed meeting you at the clinic. It made me want to take part on a horse and I really hope I will be able to do that in November. It was amazing to see how everyone improved within a short space of time…I shall look forward to meeting you again and to go on improving and centering my riding. Best Wishes Diana - Checkendon Reading UK
Thanks for a good seminar at Rhodes River Ranch. You are real good instructor, and a nice lady too. Bob - Camano Island WA
Elaine, I wanted to let you know how very much I enjoyed your clinic. You have such a great way of expressing concepts, and your feedback and direction were clear. Most of all, it's great to be doing this with someone who laughs and enjoys the process. Thanks so much, looking forward to a chance to do it again. Much to think about in the meanwhile. Best wishes, Betsy - Bozeman MT
I still fondly remember the lessons I took from you in Idaho and wonder if you offer clinics in WA or better yet in California or Oregon? Angela
Thanks again for the wonderful riding lessons. I truly appreciate your style of teaching which made the lessons both wonderful learning experiences as well as fun! Priscilla - Roche Harbor WA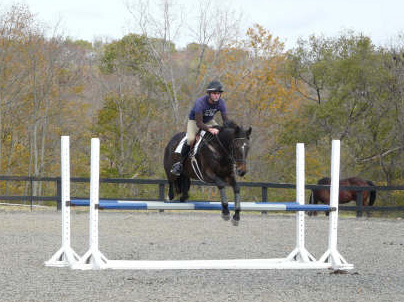 Elaine has highlighted the importance of using my psoas muscles, a concept I had not consciously focused on previously. In so doing, Elaine has helped me to soften my seat yet "straighten" my posture - again, a lesson in the coordination of body parts that transfers into jumping by allowing me to sit lightly in the saddle from fence to fence, and allowing Next to gallop "lightly," coming more through with his hind end. Becoming aware of properly using my psoas muscles has also enabled me to work on matching Next's movement. For example, my "homework" is to become solid at moving bilaterally with Next at the trot. I am amazed at the feeling when it all comes together. Jim - Yellow Springs OH
Hi Elaine. This weekend was so great. Yesterday II digested all that I learned and today Sally and I went to the arena on the corner to practice. It was amazing. We have been riding there for seven and a half years. We have never been do deep in the corners. What we learned this weekend improved every aspect of our ride. By the end she was offering to collect and I didn't throw it way. I could feel her back coming up under me Just couldn't wait until the weekend to share this with you. See you soon. Kristin - Stanwood WA
Hi Elaine! I just wanted to thank you again for an amazing weekend! I can't wait to go and practice with my horse :) I am feeling very grateful and inspired... Warmly, Rhonda
Elaine's expert observations and well-timed invitations to apply Centered Riding techniques using Sally Swift's approach to riding brought vision into practice. Jim's skilled translation and athletic application engaged his horses mind through his hocks and brought a Balanchine elegance into the arena. Suzanne - Yellow Springs OH
When I first got in the saddle and moved around to get my seat centered the pain flared and I thought this is not going to be an easy day. As the day went on and I was focusing on the lessons and my horse I noticed my pain was gone. Also I noticed my mood had lifted. Soon I was enjoying the day, being out in the fresh air, having good company with friendly people, enjoying emensly being with my horse, I forgot my problems. The next day I went to work with new enthusiam and problems seemed distant. I also had a Doctor appointment that day and my blood pressure was much lower than it had been in a long time! I now believe Centerd riding is therapudic and good for the body and well as the soul. Just wanted to thank you! Sincerely, Jo - Spokane WA
Oskar and I thank you so much for your help during the Centered Riding Clinic in Yellow Springs last weekend. You'll be happy to know that the two times I've ridden this week, the first thing I thought about when mounted was, "where am I sitting in this saddle?"…Thanks again for all your help. Joy - Hocking County, Ohio
A very gentle lesson yesterday discussing with my instructor and consolidating what I had learned on the clinic. Interesting things I found:
1. I am getting better at noticing when I am not aligned, and getting myself straight. Carrie definitely noticed when I got it right, and so did Jay (Carrie is horse, Jay is instructor!)
2. I use the reins much less for security (having had to abandon them altogether on Kerry!)
3. I did catch myself ear-gazing a couple of times, but in general my eyes are much more lifted, and when they are lifted, I am looking much further out than before.
4. Sitting trot is now at least as natural as rising! Before the course I would use rising trot to balance myself when sitting got out of control. Last night I realised that I had almost forgotten how to rise, and couldn't until I felt I had balanced while sitting. When I did rise it felt incredibly balanced. Never before has my instructor just said "Wow" when I changed gait!
5. Without knowing quite what I was doing differently, I persuaded Carrie not to cut corners nearly as much as she usually does for me. I suspect eyes and directing from the centre were responsible!
My instructor was really impressed for several reasons. First I can now get halfway round the school in sitting trot and still be smiling (rather than wincing). This both with and without stirrups. Second she said that my whole approach and look on the horse looked different: she said I looked relaxed, comfortable and happy, where I had been looking tense and anxious, as things weren't quite working so I'd worry go inside my self, stare at the ears and try too hard
If we get the dates for November early enough for her to get time off, Jay would very much like to come to the next clinic. She may well be interested in training as a CR instructor at some point too, I think, if you get some courses running! Thanks Lesley for organising it!! Dr. Kim - Farnsborough Hampshire UK
By the way, I have been meaning to email you for weeks now, and say THANKS for all your help with my riding. In September, at my Level 2 Parelli Clinic, I was able to pass off my flying lead changes on Beau. Marc, the instructor, said that we probably did that task as good as he had ever seen!! We had to do 4 consecutive flying changes in a serpentine pattern with only the backs of my wrists under the reins, then come down to a stop and back up - all without taking hold of the reins in my hands. Thanks to the Centered Riding, I was finally able to feel secure enough in the saddle to ride my little Arab "rocket" through that task. Marc's wife told me that she has really noticed a huge difference in my riding, and she said she was amazed at how smooth we looked doing that task. :) I grinned from ear to ear for about 5 days over that one!! Hahaha Shelly - Sunnyside WA
I wanted to thank you again for your wonderful clinic last Sunday in Yellow Springs. Sundance and I walked (or trotted quickly!) away with much helpful information. Your images of the hula girl's bouncing head and the heart in line with my head/brain are both most helpful, especially the latter, an analogy useful in other facets of my life as well. I'm sure you've frequently heard from many a trainee how your/centered riding lessons transfer to so many other life lessons! Kat - Yellow Springs OH
It never hurts to check it out,
So, dig deeper...