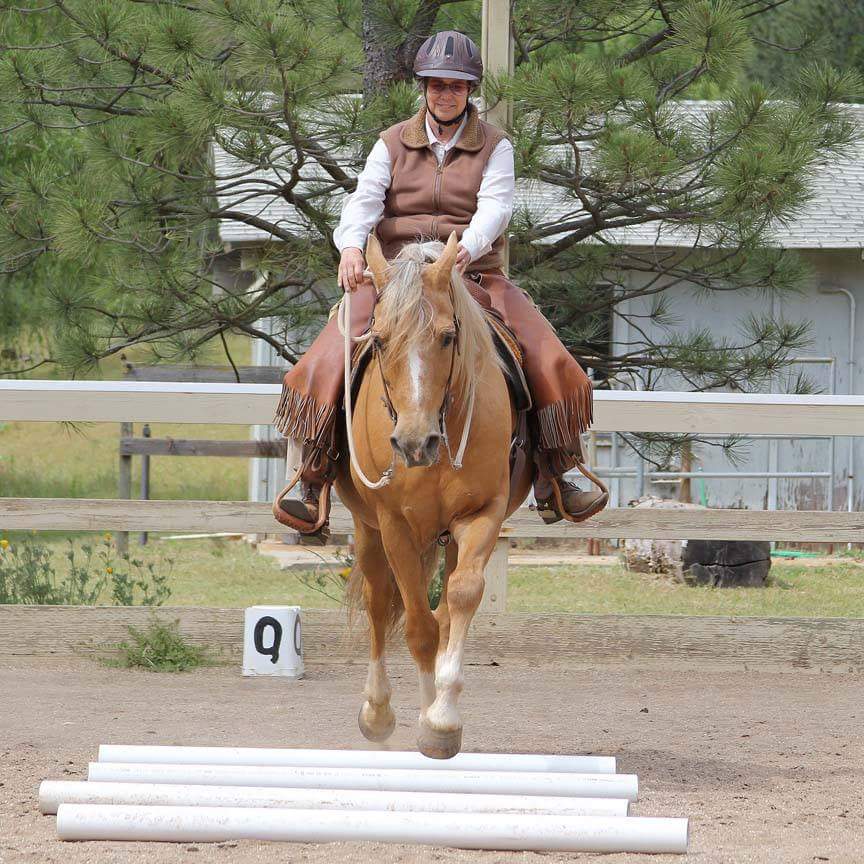 Cowboy Dressage® is like coming home for Elaine.
And it makes her Spirit soar!
Elaine's preference has always been to ride Western. But along the way most of her instructors have been primarily English oriented, and particularly toward the dressage end. At times this had a push-me-pull-you feeling for Elaine, but it always seemed to work just fine for the horses. Then, in 2012, she met Eitan Beth-Halachmy while organizing that year's Centered Riding® Symposium and discovered the joys of Cowboy Dressage®. Suddenly everything fit!
Apply
Cowboy Dressage® provides a systematic way for Elaine's students to put their awareness and alignment skills into action. And it is so-o-o fun! Elaine even has English and endurance riders that join her gatherings. Whether riders have the urge to compete or they just want an application for riding that has a bonus of great training for both horse and rider, Cowboy Dressage® fits the bill.
The Cowboy Dressage® philosophy really appeals. It puts kindness to the horse in the spotlight. And the scoring system for the competition backs up the ideal. Cowboy Dressage® provides a systematic application for bringing the Western horse along with good classical training goals and methods. The Cowboy Dressage® court has been reinvented to simply make sense. The tests have been created and customized to accentuate and challenge the movements and skills of the Western horse.
Cowboy Dressage® is more than a competition.
Retreats that combine clinic experiences with traditional western activities, such as trail riding, working cows, good food, music and dancing are equally attended by competitors and riders that just want to help their horse. And the best part is the camaraderie of all the people involved! Cowboy Dressage® has an authentic grass roots feel and a professional ethic that exudes integrity.
Starting in 2015, Elaine was listed as Clinician, Lessons, Training, and Resource by Cowboy Dressage World. In April 2016 Elaine earned her Recommended Cowboy Dressage Judge status. In October 2016 she qualified as a Cowboy Dressage Clinician Level 1. Elaine is a member of the Cowboy Dressage World Professional Association.
To look more deeply into Elaine's past experience,
Kick up some dust ...