Clicking on the following links will open them in the frame below.
These are some of our favorite links. As we discover new connections Elaine will pass them on here, so be sure to keep in light contact:
Centered Riding®, Inc. is a not-for-profit (501-C-3) corporation established to "maintain, teach and promote Centered Riding", carrying on the philosophy and ideals of its founder, Sally Swift. To fulfill that mission, the organization produces a free online e-bulletin, two subscription publications and has established an instructor training program with clinics available worldwide.
Cowboy Dressage® and Cowboy Dressage® World are the two websites that will give you everything you need to get started. Take the Handshake. There is tons of free information: event calendars, court diagrams, call sheets, score sheets, resources, publications, videos.
Equine Ambassadors This is a favorite of Elaine's - a nonprofit that maintains a retired draft horse, educates members about driving, and offers historical education about draft horses.
Mid Columbia Traditional Arts and Music Association This is a favorite of Phil's - a nonprofit that promotes our favorite music during the annual Sacajawea Bluegrass and Dutch Oven Cooking Festival. Weekly music jams and occasional concerts keep the area pickers learning new tunes. The organization also provides historical reenactment for school children and the public during Heritage Days.
Rollback to the bottom frame ...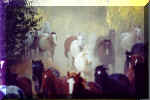 And follow it on down the trail ...